Monthly Archives:
February 2012
Design Considerations
• Opt for soft lines and curves in landscaping instead of straight lines and sharp corners.
• Incorporate some design features such as a garden arch and trellising for floaty climbing plants or a pathway for romantic strolls.
• Ideally your space should be private, or at least include a private area. You can do this with clever planting or invest in a metal gazebo or pergola for a completely enclosed seating area.
The Essentials
Vintage Metal Garden Furniture – Choose swirly white or cream
metal garden furniture with a delicate framework for an elegant, dreamy look. Choose elegant bistro set with in a French country style or a rustic garden bench with a bronze patina finish.
Garden Art – Classical Aphrodite or Eros statues will add to the ambience. Choose something more ethereal such a collection of winged angels or cherubs. Garden statues also offer an opportunity to add a fantasy element with mythical fairies, toadstools or dragons.
Twinkle Lights – lanterns or candles for a dreamy feel after dark.
Planting List
Roses – cho
ose white or cream climbing roses for elegance and refinement.
Rhododendrons – or Rose of Sharon have beautiful blooms and available in many sizes and colours. These shrubs can create areas of privacy and reduce wind.
Lavender- Fragrance is an important feature; lavender is perfect for edges and borders.
Cherry Tree – Look for trees with beautiful spring blossoms such as the cherry tree, the confetti effect in spring will make your garden feel even more magical.
Honeysuckle –The honeysuckle has creamy white flowers and is perfect for use on trellises or arbours.
Lily of the Valley – with stunning white heart-shaped flowers, great for softening pathways
Trailing lobelia – for planters and hanging baskets.
Accessories
Vintage Seat Covers – and cushions with a delicate floral print.
Mirror – useful for making small outdoor spaces seem larger and to decorate walls in a courtyard garden, plus shimmering light reflections will add to the ambience.
Loveseat – a bench made especially for two, position in a quite spot in your garden.
Drapes – If you have a pergola or gazebo, use soft flowing fabrics to curtain off for extra privacy and to enhance the design. If not, get creative and find other ways to incorporate floaty drapes.
Design Considerations
Shelter – For use all year round, your chill-out space needs shelter from the elements.  Consider metal gazebos or wooden pergolas with a roof.  A large patio umbrella will do, just make sure you get something that's sturdy enough to withstand windy and stormy weather.  If you have a courtyard garden, it's much easier, you've already got a sheltered structure, just create a roof for a totally enclosed room.
Heating – Obviously in the UK, we don't have that Florida sunshine.  To get maximum use from your space, so you can extend its use right into October or late into the night, some form of heating is a must.  Ironically you'll never be able to chill out when it starts to get colder!
The Essentials
Bold Tropical Colours – Go for bold colours which fit with the tropical theme.  Or choose sunny pastels to reflect Miami art-décor.  Vivid flamingo pink and bright orange flowers, with amazon Green cushion covers.  Or sun, sand, s
ea and surf pastel shades for a beach vibe.
Soft Furnishings – Your soft furnishings are important in this design to get that lounge area vibe.  Try to use a variety of materials, with natural looking textures.  Use scatter cushions, throws and blankets to make it ultra-comfy and curtain off for more privacy.
Low Level Seating – The key to a relaxed space is to choose low level seating.  L-shaped sofas are great allowing you to lie out in complete comfort.  Low level wooden benches will work great too.  Use a more informal arrangement for a casual, relaxed look.
Planting List
The tropical plants and palms are seen all over Miami.  But you'll need plants that are hardy enough to survive the UK climate.  Some potted specimens with bright, tropical blooms will look great and can be moved inside in the winter months.
Cycad – These look like palms but are actually conifer type plants; they're hardy and perfect for your borders.
Succulents – Are another must, great for dry soil and gravelled areas.
Cannas – Part of the banana family, with exquisite bright red flowers.
Hibiscus flowers – These are a useful in this type of garden as they don't require full sun.  Do your research when looking for plants and choose varieties that like partial shade.
Passiflora – Passion Flower – the exotic blooms will make a great feature.  They're easy to grow and frost hardy.
Accessories
Loungers – a contemporary metal lounger will look fantastic in this space.  If you don't have the room; position in a sunny area of the garden as a continuation of your theme.
Outdoor Rug – will feel great underneath your feet, allowing you to kick your shoes off and relax.  Artificial grass style rugs are practical, they're soft and just wipe clean.  These days you can get them in a variety of different colours.
Lanterns –use lanterns and candles in a variety of colours, perfect for relaxing late into the evening.
Welcome to our new Garden How-to Series where we'll be showing you how to create a different garden design every week.
Design Considerations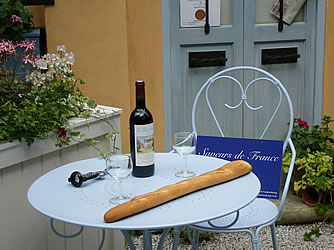 •    Consider the sunlight, walls will cast deep shadows and their positioning will differ depending on the season.

•    Create a Roof – You may wish to have a covered area to enjoy your garden in all weathers.  This is much easier with a courtyard as you can make use of the walls and attached a lean to or canopy.
•    A level floor will make the space much more useable; if you decide to level the courtyard you could consider traditional stone or terracotta pavers, and even have a small artificial grass lawn.
•    Covering the walls – you may need to cover-up unsightly brick walls, trellis is a great solution but you could consider painting or cladding.
•    A symmetrical layout is preferable, especially when space is limited.  Uniformed positioning of furniture and other features works better with the structured walled surround.
The Essentials
Wrought Iron Furniture – Think of your favourite French bistro – for a more romantic look choose a white or cream metal garden furniture, grey or black  will look more rustic.  Follow the link for another how-to on creating a mosaic table top.
Planters – Terracotta or stone urns and planters for a feature fruit tree, climbers to grow up walls or more formal topiary.  Wrought iron plant stands and hanging baskets will fit in perfectly with this theme too.  Fixed wall planters will help decorate the walls and disguise any flaws.
Fragrance – We're looking to create an ambience so we want to appeal to all the senses, fragrant fresh herbs like thyme, lavender and lemon grass so you'll feel like you're in a French farmhouse.
Planting List

Lemon/Orange Tree – depending on light conditions, great in a courtyard as it's sheltered

Dwarf Trees – look for dwarf or ornamental tree varieties due to the space limitation
Climbing Hydrangea – thrives in shady, inhospitable areas
Dutchman's pipe – a deciduous woody vine
Wild Garlic – the bulbs, along with the flowers are edible, leaves are delicious in salads or soups.
French Lavender (Lavandula stoechas) –an excellent container plant with a unique violet flower, needs full sun.
Greek oregano – very hardy, with darker green foliage with clusters edible lavender flowers
Peppermint – for a burst of freshness are perfect for moist, shaded locations
Accessories
The size of your courtyard will determ
ine how to put the finishing touches to your new space.  A large courtyard may be able to accommodate more furniture and even a water feature.  However, a small courtyard can be easily overwhelmed with accessories.  In this case, keep it simple – a few potted plants may be all you need to get the look.
Table Linen – for an elegant bistro setting go for a crisp white table cloth or choose a chequered or floral design for a more cottage feel.
Candle-light – Of course, no French eatery would be complete without candles so go for a candelabra centrepiece.
Stone potting table – great as a feature piece and will display your herb garden
Wall art – will add interest, choose a wrought iron piece or use mirrors in a small courtyard to give the impression of more space.
Antique French Water Feature – if you have the room, a water feature will add an extra dimension.
Don't miss next week where we'll be jetting off to Florida to create a Miami style chill-out garden.
Our News
We enjoyed lots of press coverage last month.  Notably, our metal furniture can be seen in January 2012 issues of Ideal Homes and Period Ideas.
Best-selling U
K home magazine, Ideal Homes have featured our Classico designer Umbrella stand in th
e January Issue photo shoot.  This classic iron stand is available in a range of colours and finishes, to fit in with any décor, perfect for de-cluttering your space and making a statement too.  Also available; its big brother, the Classico metal coat stand, a modern take on the traditional Cafe Daum, a stylish way to keep your hallway neat and tidy.
Period Ideas magazine features traditional, timely furniture and our Lily Bed was mentioned as January's Editorial choice.  The Lily bedroom range is elegant, with a timely, classic design.  Shown here in ivory with a gold patina finish, it creates a space that's orderly but with a suggestion of dreamy, romanticism.
Starting Next Week…….
Not to be missed – our new Garden How-to Series will start next week.  Every week we'll feature a new garden or patio theme to spark your inspiration and illustrate exactly how you can create the look.
Whether you want a chill-out zone for the family to relax or an elegant dining area to entertain guests, there's sure to be something that moves you.
And, you'll be in plenty of time to create your new outdoor space ready for the Spring!